Words of Wisdom
When asked to give his best advice to car purchasers, a twenty-year veteran dealer gave his insights-
"I would suggest some basics to potential buyers. First, determine your budget. Down payment, monthly payments, insurance, and potential repair and operating costs; all must be considered. Secondly, determine the car you want and see if it matches your budget. Once you have selected the car, check out your local dealer. Check with any consumer advocate agencies to see if your local dealer handles complaints properly and check for volume of complaints."
"I do not recommend the Better Business Bureau (BBB). Besides my personal experience, recent news articles have pointed to situations where local chapters have reported low ratings for business owners that did not join their chapter. Once they joined, their low ratings immediately changed. Shop around and then attempt to buy from a local servicing dealer. Establish a relationship with someone you will depend on for service on your vehicle."
Let's Make A Deal
When it comes to purchasing protocol, there is one prevailing rule most buyers invoke: Get the most automobile for the best price.
In that arena, alliances and deals are made and broken based strictly on the numbers. The concept of pitting dealerships against each other through an email bidding frenzy has gained popularity and is edging toward consumer acceptance through the surge in bidding-friendly websites like truecar.com. Online resources prove informed buyers have the advantage when initiating bidding wars that make most old school sales veterans fall to their knees. In other words, this is not your grandpa's game.
Terminology is a factor when discussing price. Besides the MSRP, there is also the list price, fleet price; internet price, dealer invoice and dealer's net, after incentives are factored in. The sale will be based on retail, wholesale, factory, or cost-plus pricing. When trying to pin down the illusive fleet manager for special pricing or working directly with the internet sales department, don't get hung up on the definition of the discount; just look at the bottom line. Remember, it's just a juggling act of interchangeable numbers.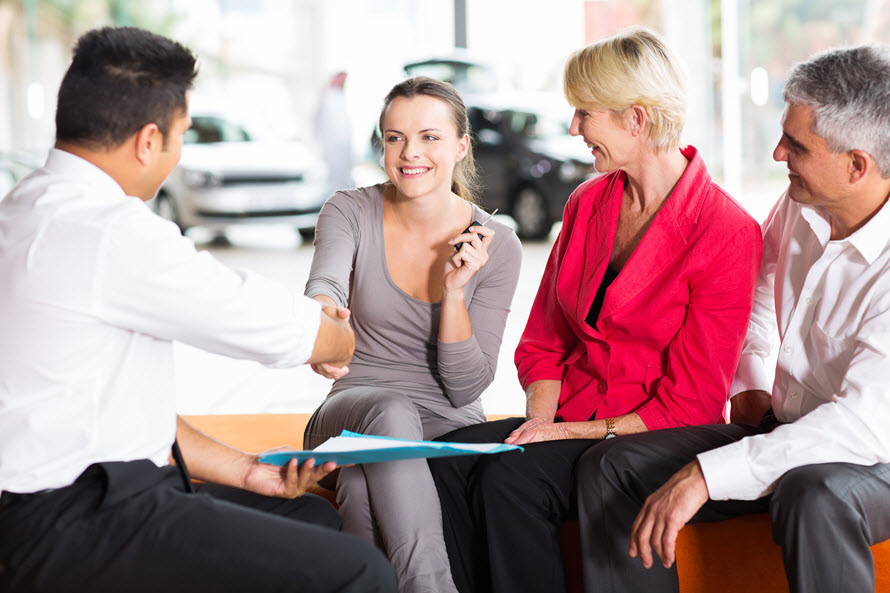 Work with reliable companies that offer the best rates when pinning down the finance and insurance details. Dependable service is a factor when claims are filed and requests made. If financing through a dealership to capture the manufacturer's zero or low interest rates, use a payment amortization chart to verify your monthly payments. It is a straightforward chart based on total sales price and interest rate quoted that will ensure you are receiving the low interest rate you were quoted, with no variables to dispute.
Often, dealers use the contract-signing appointment to suggest after-sale add-ons. One of most popular is GAP insurance, activated when filing a total-loss claim. This policy will close the gap between the actual cash value of a vehicle and the outstanding amount owed on the loan. GAP coverage cancels out a liability that could remain active long after a car has been sent to the junkyard and been replaced with another financial commitment. However, insurance companies are better equipped to offer the lowest rates for this kind of protection, so shop around before purchasing day.
GAP insurance is also useful if it will be difficult to maintain the estimated market value of the vehicle over the life of the loan. One thing to remember when filing a GAP insurance claim is to continue paying the small monthly premiums, even if you cease making monthly loan payments.
Keep spare keys and documents in a safe, fire-proof location that is easily accessible in emergency situations, like theft or accident.
An unwitting team of professionals has participated in the research and information that ultimately matched a driver with their vehicle. Only the buyer can retrace his steps, make decisions and cement the deal. If bottom-line pricing becomes the objective, then it simplifies the outcome.
However, if a particular salesman always answered your phone calls and emails promptly, or was available for yet another test drive after his shift ended, he probably influenced the buying decision. If you live a small to average-sized community, than you probably know someone who is a friend or neighbor of his. Follow your instincts and give him the order, even it means paying the second from the lowest price. There is a reason not all prices are the same; it's called service. His vested interest in your car is established, and he may be a resourceful ally when working with the service department. It's common to hear stories of salesmen assisting owners after the sale with necessary transportation and communication to complete regular maintenance schedules.
An automobile acquisition is a significant purchase. Whether considering a Bentley with a price tag of $485,000, a co-worker's 1997 Chevy for $500.00 or something in between, the decision can be life-altering. The public road system levels the playing field for all vehicles in an interactive grid of faceless fellowship that places automobiles at the front line of defense.
In the end, the buyer decides who, what, and how, will complete the deal. Prior to signing the well-discussed terms imprinted on the legal-sized, five-part sales contract and payment agreement, a buyer must determine which manufacturer of what model, in what color, with which options, will be sold or leased, insured and financed, by which companies, and under whose terms. No single method has set the standard for buying and selling in the changing landscape of automobile transactions. As long as diversity continues to define the automobiles we chose to drive, it will also prevail over the various ways we acquire them.
Sources:
O'Dell, John, Senior Editor, Edmunds.com. "What's Coming: Alternative Vehicles 2013-'15," Published: 09/11/2012 Updated: 01/23/2013
AutoBroker.com, "White Paper: The CRM Paradox," Web Published: 1/14/2013